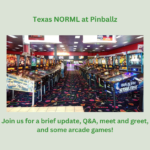 Event: Texas NORML at Pinballz Lake Creek
August 21, 2023
October Livestream: Delta-8, TCUP Potential Changes, Federal Update
October 5, 2023
Wednesday, September 6, 2023 at 7pm CT
Join Texas NORML for our monthly livestreams, held the first Wednesday of every month at 7 pm.
Texas NORML Executive Director Jax James provides an organizational update to talk about where we currently are, the opening of our new shop and membership system, our updated volunteer program and exclusive volunteer group, and our upcoming event at Pinballz.
Watch last month's livestream on initiatives in Killeen and Denton to stop arrests for misdemeanor marijuana possession.
Join and watch this livestream and previous livestreams on:
Facebook
YouTube
Twitter
LinkedIn