87th Legislative Wrap Up (6/2/21)
May 21, 2021
7 Days Left In Session: What You Can Do to Help
May 23, 2021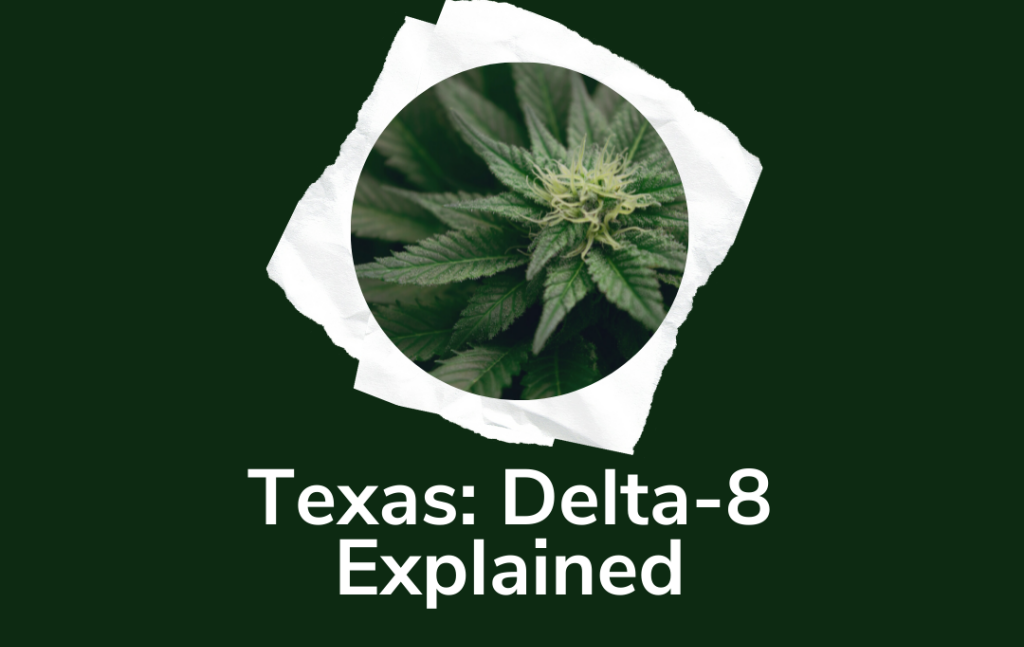 UPDATE: Austin-based distributor Hometown Hero has filed suit against the Texas Department of State Health Services, alleging a failure to follow proper procedures by covertly modifying the state's Schedule of Controlled Substances on March 19, 2021 after the department updated its wording on October 16, 2021 noting that products containing more than 0.3 percent of Delta-8 currently being sold on the market are illegal as a Schedule 1 controlled substance in Texas. Read the Lawsuit
---
The market for Delta-8 in Texas is strong, however there are a lot of questions surrounding its legality and what exactly Delta-8 is.
The History of Delta-8 in Texas
During the 2019 Texas legislative session state lawmakers took a step forward in establishing a hemp program. This happened despite strong and ongoing concerns by policymakers that they were legalizing marijuana. Their concerns lie with the potential for the program to inadvertently allow the legal sale of large psychoactive amounts of THC (tetrahydrocannabinol), the component found in marijuana which produces a "high."
This prompted legislators to define hemp as the plant Cannabis sativa L. with a Delta-9 (the most common form of THC) tetrahydrocannabinol concentration of not more than 0.3 percent on a dry weight basis. This definition is consistent with the federal definition of hemp.
Since 2019, numerous businesses have come into existence to sell hemp derived products such as cannabidiol (CBD) supplements. During that time another product similar to Delta-9 came to market called Delta-8, both of which are considered tetrahydrocannabinol. Marketed as a product with therapeutic effects and a legal alternative to Delta-9, state lawmakers took notice of the new product, one which they had not intended to authorize under the state's hemp program. Relevant Watch: HB 3948 hearing Texas Senate Committee on Water, Agriculture, & Rural Affairs
The Science and Legality
Delta-8 occurs naturally within the cannabis plant in small amounts, making it non-viable for commercial quantities. However, CBD can be converted into Delta-8, which raises the question "is Delta-8 a synthetically derived cannabinoid?" Synthetically derived cannabinoids, regardless of whether they come from hemp or marijuana, are illegal.
In August 2020, the Drug Enforcement Administration issued a ruling adding language excluding tetrahydrocannabinols which fall under the definition of hemp from the list of controlled substances. However, the Texas Department of State Health Services (DSHS) objected to this modification, declining to adopt it for the state's controlled substances list. DSHS testified as a resource witness regarding the legality of Delta-8, testifying "Delta-8 still remains on the Schedule 1 drug Schedule" in Texas. It raises the question of whether Delta-8 is already illegal in Texas. (Watch Testimony) (Read DSHS decision). Recently, DSHS updated their site to include the following language:
Texas Health and Safety Code Chapter 443 (HSC 443), established by House Bill 1325 (86th Legislature), allows Consumable Hemp Products in Texas that do not exceed 0.3% Delta-9 tetrahydrocannabinol (THC).  All other forms of THC, including Delta-8 in any concentration and Delta-9 exceeding 0.3%, are considered Schedule I controlled substances. A list of Schedule I controlled substances can be found at the following link: Schedule I Controlled Substances.

Complaints regarding controlled substances should be referred to law enforcement.  DSHS has no regulatory authority over controlled substances. 
Previous language:
The 86th Texas Legislature passed House Bill 1325, which makes it legal to manufacture, distribute and sell consumable hemp products (CHPs). The Texas Department of State Health Services (DSHS) is the regulatory authority for CHPs.
House Bill 1325 does not reference Delta-8, and references only Delta-9:
CHAPTER 121. STATE HEMP PRODUCTION PLAN
Sec. 121.001. DEFINITION. In this chapter, "hemp" means the plant Cannabis sativa L. and any part of that plant, including the seeds of the plant and all derivatives, extracts, cannabinoids, isomers, acids, salts, and salts of isomers, whether growing or not, with a delta-9 tetrahydrocannabinol concentration of not more than 0.3 percent on a dry weight basis.
During the 2021 legislative session lawmakers sought to ensure that regardless of if it meets the definition of being synthetically derived or a controlled substance, Delta-8 is regulated exactly as Delta-9. Their attempt resulted in adding an amendment to HB 2593 on the floor of the Texas Senate, which had it been enacted, would require that all products going forward must contain no more than 0.3 percent tetrahydrocannabinol by dry weight. This amendment was ultimately discarded during conference committee between the House and Senate, and was not enacted into law.
What does this mean?
This is concerning since hundreds if not thousands of Texas businesses, who have survived the economic impacts of the pandemic, will be affected, as well as the many customers who have benefited from these products. Due to the legal ambiguity of Delta-8, it is imperative that we focus on a regulated cannabis market. Legality based on the chemical makeup of a plant is expensive, ineffective, and a failed policy. It is important that we create a regulated market which:
Ensures businesses can flourish legally while sorting out the bad actors.
Allows accredited labs to test products so that all products are properly labeled with the cannabinoid levels, terpene profiles, and proof of no molds, heavy metals, or other harmful products.
Requires ID for purchase.
Keeps licensing, regulation, and tax rate minimal enough to ensure elimination of the illicit market.
A legal and regulated cannabis market is the best way to ensure consumer protection and quality products, restrict access to those under the age of 21, save taxpayer money, and generate revenue.
Helpful Resources:
Ritter Spencer: DELTA-8 THC: THE NEXT RISK-INHERENT CANNABINOID
Coats Rose Opinion: Did the DEA's new rule confirm hemp-derived Delta-8 THC is illegal?
By: Stephen Carter & Jax Finkel
---
Learn how to become a member of our organization. Make a donation towards our important work during the 2021 Legislative Session. Shop at the Texas NORML store.