Texas NORML Spotlight: NORML Women's Alliance Sister to Sister
May 5, 2011
Meeting Notes June 1st, 2011
June 1, 2011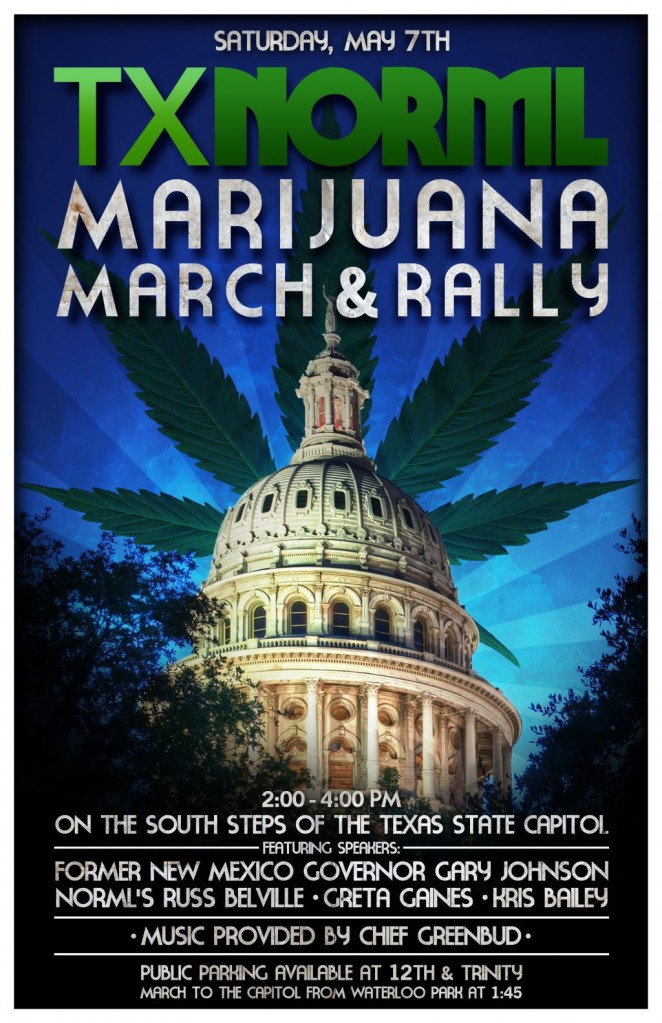 Time: Saturday, May 7 · 2:00pm – 4:00pm
Location: Texas State Capitol
Texas NORML, the Texas state chapter of the National Organization for the Reform of Marijuana Laws, is proud to announce that on Saturday, May 7th, former New Mexico Governor and 2012 Presidential hopeful, Gary Johnson, will be joining us at the Texas State Capitol for the Texas Marijuana March & Rally, from 2:00pm to 4:00pm.
Gary Johnson is the former Republican Governor of New Mexico, current Honorary Chairman of the "OUR America Initiative", and an outspoken proponent of legalizing marijuana for responsible adult use.
The Texas Marijuana March & Rally will also feature National NORML's Chapter/Outreach Coordinator and Podcast Producer Russ Belville, former professional snowboarder, TV personality, singer-songwriter, & NORML Women's Alliance member, Greta Gaines, and Austin City Council candidate Kris Bailey.
We will also have a featured performance by Chief Greenbud
We are encouraging everyone in attendance to meet Saturday, May 7th, 1:15pm, near the corner of 12th St. and Trinity St., adjacent to Waterloo Park. From there, at about 1:45pm, we will march down to 11th St. and over to the South Capitol Steps for the rally from 2:00-4:00pm.
Parking is available in the Capitol Visitors Parking Garage at 1201 San Jacinto located between Trinity and San Jacinto Streets at 12th and 13th streets. Parking is free for the first two hours and $1.00 for each half hour thereafter (maximum daily charge: $8.00); accessible parking is available with accessible routes to the Capitol. Metered spaces are available throughout the complex.
An afterparty and fundraiser for Texas NORML will be held the evening of May 7th, at MoMo's Club on W. 6th Street. The afterparty will feature Clyde & Clems Whiskey Business, Greta Gaines, Sun Salutation, Chief Greenbud and a "meet-and-greet" with the speakers and performers. The afterparty begins at 7 PM and is $15 for general admission or $10 for current Texas NORML members. The Event page can be found here.
To find out more about both the Marijuana March & Rally and the
afterparty, visit TexasNORML.org.
Please come out and show that you're willing to stand up and be counted for the cause of cannabis legalization in our state. Peace and Good Buds!