March Texas NORML Meeting
February 24, 2021
Dallas: No More Arrests or Citations for Personal Amounts
March 1, 2021
We have added new benefits to our membership packages! We offer four levels of membership. Select the one that fits you best. Read more about upcoming events below.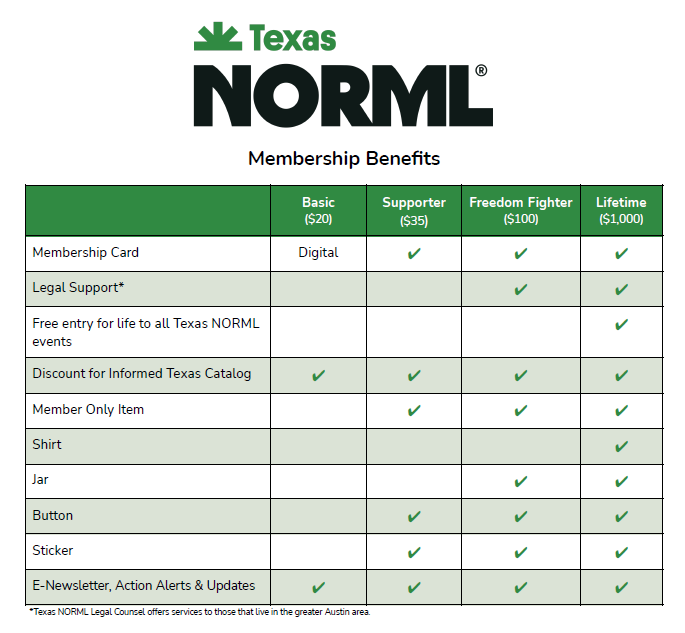 ---
Wednesday, March 3rd, 2021 at 8pm – Join us for our informal, monthly meeting. We are currently hosting these meetings virtually. You can view on Facebook Live or join the webinar. We will also post the recording to Youtube after the event. March's topic is "Concentrates: What Are The Legal Ramifications?".
Learn more and submit your questions to the lawyers.
---
Saturday, March 6th, 2021 at 11am – As a result of the COVID-19 outbreak and the recent winter storms, Texas has to re-evaluate how we operate as a state. This includes the way we do business and how we choose to utilize resources. Our united goals are to keep Texans safe and keep our economy moving. A growing number of states have embraced regulatory frameworks to allow for businesses to grow, manufacture and sell cannabis to those that are over the age of 21. Informed Texas will cover effective tax rates vs prohibitive rates, number of potential consumers, estimated sales per customer, job growth, fee revenue, racial disparity and more.
Register today! (NOTE: This seminar will air on 3/6/21 and then will immediately be available for on demand replay.)
---
Monday, March 29th, 2021 – With access to the Texas Capitol largely restricted, we are utilizing a digital platform to host our Texas Marijuana Policy Virtual Lobby Day! This two-part Virtual Lobby Day is designed to create meaningful connections with legislators and their staff to advance marijuana law reform.
Register for Orientation to attend!
---
Learn how to become a member of our organization. Make a donation towards our important work during the 2021 Legislative Session. Shop at the Texas NORML store.