Texas NORML Upcoming Events
November 4, 2015
Discount Code! – Save 50% on Passes to Southwest Cannabis Conference and Expo
January 19, 2016
Please Sign This Letter to Governor Abbott!
Operation Trapped

Today we are launching a signature collection initiative!Veteran signatures indicate support for Major David Bass' (U.S. Army – Retired) request for a meeting with Governor Abbott to discuss medical marijuana access in Texas. You can read his letter to the Governor HERE. Texas Veterans, please sign this Letter to Governor Abbott. If you are a veteran who is a medical refugee from Texas, please use your Texas home city that you hope to return to. We will be delivering your signatures to the Capitol!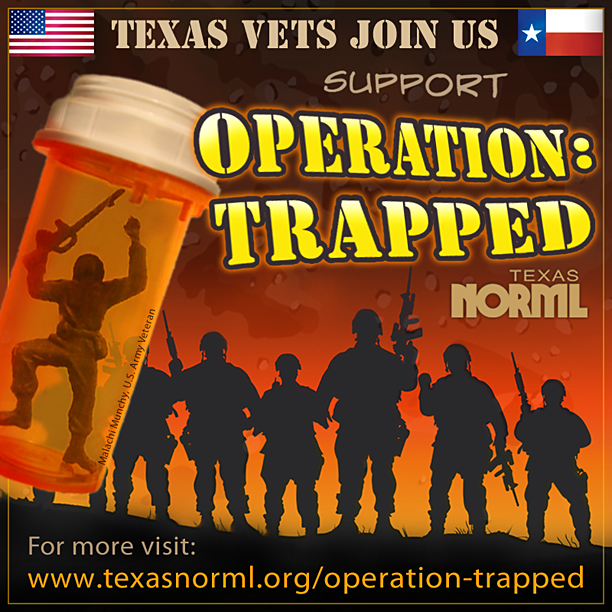 Many veterans in Texas want a safer alternative to harmful prescription medicine, which can lead to addiction to narcotics and an alarming number of overdose deaths every year. Thousands of Texas veterans take cannabis to relieve the symptoms of post-traumatic stress disorder (PTSD), traumatic brain injury (TBI), chronic pain, or other service-related injuries but are treated as criminals in Texas. That is wrong, and your voice should be heard. To amplify your voice, David Bass, Director of Veteran Outreach for Texas NORML, created Operation Trapped.
Texas NORML and Texans for Responsible Marijuana Policy want to send a message to State Lawmakers and the Governor that it's time for a better option, and you can help. On Veteran's Day, November 11th, 2015, we launched #OperationTrapped, a one-year project to collect a single used prescription bottle from every state veteran who wants a safer alternative. You can find the details and instructions HERE and you can follow the event page for updates.
If you would like to sign this letter in person, you may do so at our January Open Monthly Meeting on January 6th at 8pm at Flamingo Cantina located on 515 E 6th St., Austin, TX 78701.
Please share this information with veterans that you know. Thank you for supporting cannabis law reform in Texas.