Penalty Reduction Exhibit at the Texas Capitol
March 16, 2021
Rice University's Baker Institute for Public Policy and Informed Texas Study: Findings and Recommended Policy Changes
March 24, 2021
Speaker Pro Tempore Joe Moody has authored HB 1086 which would change penalty weights as well as reduce penalties for possession of cannabis. HB 1086 was assigned to the Criminal Jurisprudence Committee and was scheduled for a hearing on Monday, March 22nd at 2:00 PM.
Let your legislator know that you support reducing penalties for possession of marijuana!
HB 1086 broadly reforms our criminal justice system. The bill eliminates the state jail felony (SJF) system and reduces most SJFs to misdemeanors. HB 1086 would impact marijuana policy by adjusting weight limits and reducing penalties for possession of marijuana flower* and small amounts of THC concentrates.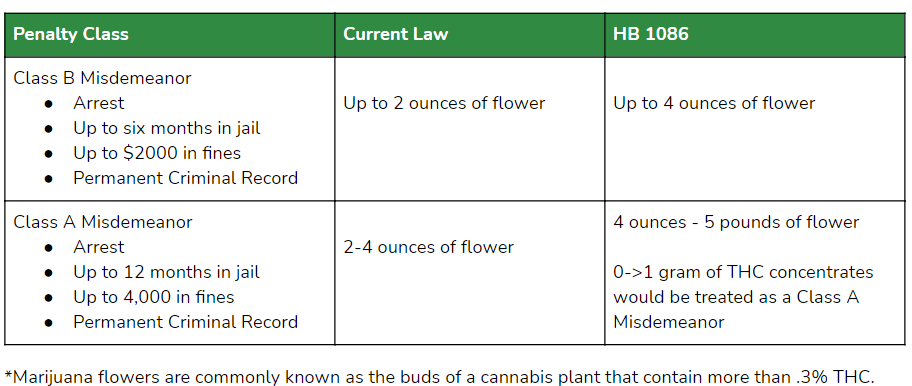 Information for Past Hearing:
Texas residents can electronically submit their support and/or written comments on HB 1086 until the hearing is adjourned HERE​. To do so, enter your contact information, select HB 1086 and submit your comments. It can be as simple as "I support HB 1086, please vote yes." Or you can submit thoughtful testimony up to 3,000 characters.
A live video broadcast of this hearing will be available HERE.
Instructions related to public access to the meeting location and health and safety protocols for attending this meeting are available HERE. For those persons who will be testifying, information for in-person witness registration can be found HERE.
---
Reminder: Monday, March 29th, 2021 – With access to the Texas Capitol largely restricted, we are utilizing a digital platform to host our Texas Marijuana Policy Virtual Lobby Day! This two-part Virtual Lobby Day is designed to create meaningful connections with legislators and their staff to advance cannabis law reform.
Register for Orientation to attend!
---
Learn how to become a member​ of our organization. Make a donation​ towards our important work during the 2021 Legislative Session. Shop at the Texas NORML store.